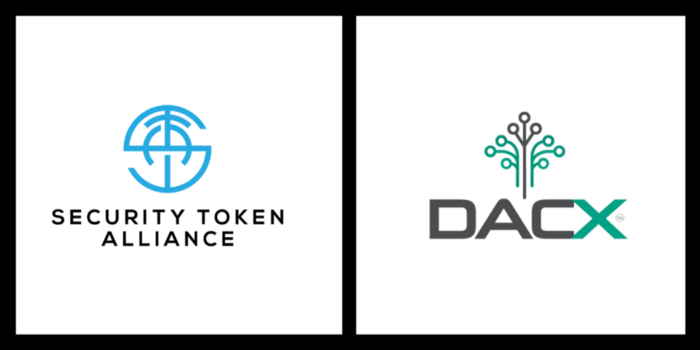 DACX Joins The Security Token Alliance
Tokyo, Japan — July 23, 2019 — The Security Token Alliance, an alliance that brings together organizations advancing the security token industry, is announcing that DACX is among the latest to partner with the Alliance.
The Security Token Alliance is founded on the belief that the present and future of digitized securities will benefit from wide participation in projects and an ecosystem for stakeholder connections. The organization was founded in May 2019 by Frederik Bussler.
DACX is a Digital Asset & Commodity Exchange out of London, leveraging AI and high performance computing tech to provide an efficient, secure, and compliant marketplace. We spoke with the Founder and CEO of DACX, Zeeshan Chaudhry, to discuss the industry and our new partnership.
Why Join the Security Token Alliance?
The Security Token Alliance was borne out of seeing the fragmentation and immaturity of a high-potential industry — Security Tokens. But what was DACX's reason for joining? Chaudhry shares his comments:
"I believe this is a great initiative by STA to form this coalition or working group, where disruptive organisations can collaborate on multiple fronts, from innovation to regulation."
Essentially, collaboration is the bedrock of the Alliance. In such an early stage of industry, companies should not be fighting for market share, but for the market itself. Our members have realized this, as Chaudhry notes:
"The foundation members are a mixture of established and young companies, where they can collectively promote and educate people/governments across the world about the benefits to society of what we are trying to mutually achieve."
Without common knowledge and education about Security Tokens, the industry can't achieve mass penetration. Investors would not invest in an asset they don't know, asset managers would not put those assets in their portfolio, and asset owners would not choose to tokenize. We believe in education above all.
What DACX Contributes
The Alliance consists primarily of the Chief Executives of over 70 industry organizations. As CEO of DACX, Chaudhary shares his thoughts on joining:
"Coming from a diversified background — from risk analytics, quant finance, machine learning, commercial real estate, and also lately being a founder of DACX — I've been given first hand experience of going through the hoops and loops of regulation. So taking in to account all that wealth of experience and information, this can add value to current and future STA members. Also there is always opportunities of exploring mutual avenues and growing together between the members."
Chaudhary and DACX bring "T-shaped experience" as new Alliance members, with a broad range of experience across industry verticals and expertise in digital assets.
This contribution will prove invaluable for other members and improve the cross-fertilization of business.
Industry Trends
Zeeshan notes a number of positive industry trends that are bringing greater hope for STs and STOs. First off:
"There seems to be a shift this year in the market towards STOs, which seems to be making headway in the UK & Europe."
As ICOs crashed in 2017 and are virtually paralyzed by regulations in 2019, capital raises on the blockchain are finally shifting to legal, compliant methods through Security Token Offerings, especially in certain verticals:
"A lot of traction has been taking place in the real estate avenue with fractional ownership of commercial assets tokenized representing nominal shares."
A Security Token is a digitized security backed by real assets, equity, or debt. Real assets such as real estate are fairing well as of late, relative to other areas like debt. In any case, we're still early on:
"The space is still relatively young and in my opinion it's early days, all conventional assets can be tokenized."
Zeeshan holds the belief that virtually all conventional assets can be tokenized — a lofty goal, but it's not impossible, especially considering that regulators are taking a more positive approach as well:
"Regulators in UK, Europe, and Asia have taken quite a positive stance towards the concept of tokenization and STOs in particular. Second half of the year you could expect more companies coming forward with and being granted interim licenses via sandboxes or full licenses in this sector."
Lofty Plans for the Partnership
In closing, Zeeshan sees a bright path ahead for the Alliance:
"The best way for the Security Token Alliance and all members to move forward towards mass adoption is via collective engagements with institutional investors and regulatory bodies."
---
With the current state of the industry — fragmented at best, immature at worst — the Alliance believes that the best way to move Security Token projects forward is with an unbiased, neutral ecosystem for projects. We aim to facilitate open knowledge sharing and collaboration.
The Security Token Alliance is currently signing and on-boarding a wide cross-section of respected security token professionals and organizations with the goal of broadening participation in digital assets in order to create the best financial outcomes for humanity.